Integrated radar water level meter is 26G high frequency radar liquid level measuring equipment,the maximum distance can be measured up to 70 meters. The antenna can be further optimized, the new type of fast microprocessors can be analyzed at a higher rate, allowing the instrument can be used for very complex measurement conditions. With DC12/24V lithium battery+Solar power, and transmit the data by GPRS, RS485 or 4-20mA.When choosing GPRS protocol,using low cost and only need a SIM card, it can be applied to water level measured in all industries.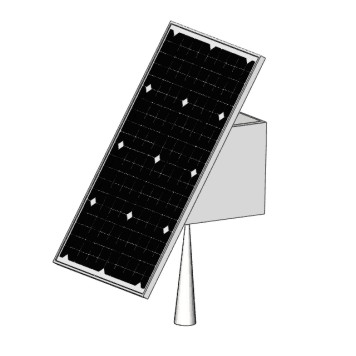 Feature: with DC12/24V lithium battery+Solar power, GPRS Protocol, high precision; strong anti-interference,hardly affected by the temperature, humidity and wind; Easy to install and debug; lower power consumption.
Application: suitable for water level monitoring, such as lakes, rivers, reservoirs, open channels, tidal water levels, and water standing water.
Measuring range: 0-70m
Process temperature: -40 -100℃
Measuring precision: ± 10mm
Process connection: PP/stainless steel
Antenna material: Stainless steel
Frequency range: 26GHz
Signal output: GPRS,RS485,Modbus protocol/4-20mA/24VDC/HART two wire
Power supply: DC12/24V lithium battery+Solar power
Display: is optional
As above picture show, DCRD1000A51 Radar Level sensor is used to monitoring the change of reservoir water level successfully. There are six monitoring point on the Longshore.